Note: This article has been updated with lastest available information on May 11th, 2023 at 11:08 pm
Please follow the steps below to perform the Spark MINI firmware update:
Backup your custom presets to the ToneCloud, Spark App or your Dropbox account before you proceed with the firmware update.
Make sure the Spark MINI is not connected to any other devices via Bluetooth.
Download the Spark MINI Firmware updater to your computer
Download Spark MINI Firmware Updater v1.9.2.34 for Windows.
Download Spark MINI Firmware Updater v1.9.2.34 for Mac.
Launch the Firmware updater (For Windows users, please right click on the installer, and select "run as Administrator")
Power the Spark MINI.
Connect Spark MINI to your computer with the supplied USB cable (USB-C to USB-A) and click 'OK, Go Next'.



Press and hold the Pair and Power buttons on the back panel of Spark MINI until the preset LEDs start to blink. The firmware updater will detect if the update is available.



Click the red 'Update Firmware' button to start the update process.
*DO NOT DISCONNECT THE USB CABLE OR TURN OFF YOUR SPARK MINI/COMPUTER WHILE UPDATING*



The firmware update is complete when you see the 'Firmware Updated' message. Click 'Done' and Spark MINI will turn off automatically.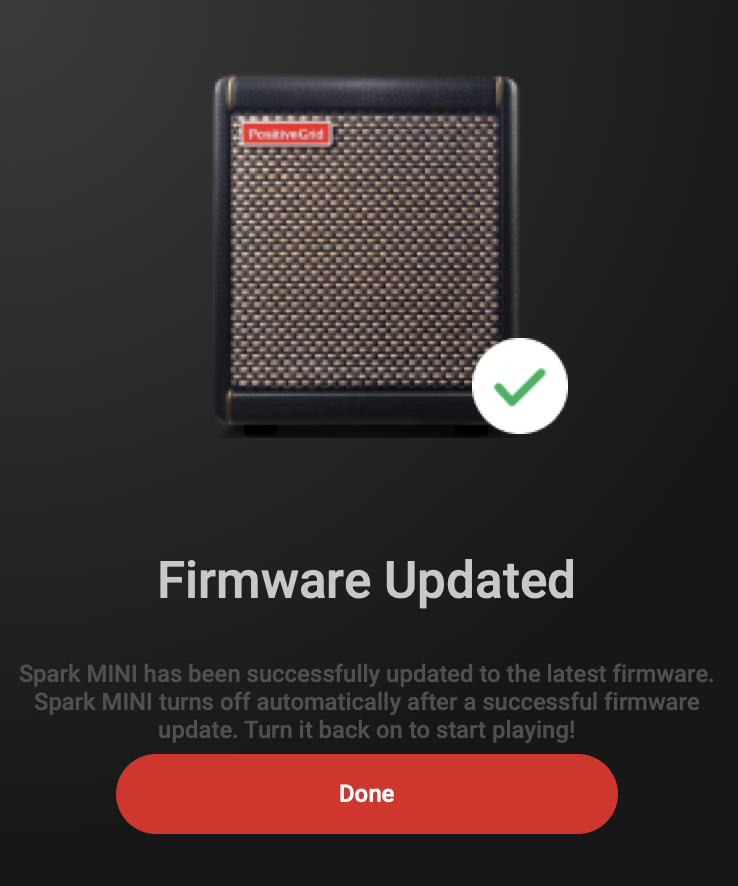 You're done with the update of the Spark MINI Firmware!
Official Positive Grid page for the Spark Mini Firmware Update
Edit: Some members are reportig issues on windows during the firmware update process ( process stucked at 2-4% with Error Code -1 or Error Code -2).
Make sure you disable all blutooth connection to the amp. Try to make a right click on the updater tool and click on "Run as adminastrator".