Note: This article has been updated with lastest available information on May 27th, 2022 at 02:23 pm
I am pleased to announce that the first Spark MINI amps are starting to be sent and delivered (although I have not received mine yet).
Update 05/27: A calendar with estimated shipping dates per region has been published by Positive Grid

One interesting thing to note is that you might need to update the firmware of the Spark MINI when you'll have your hands on it.
In case you wonder what a firmware is, it is a software program or set of instructions programmed on a hardware device. It provides the necessary instructions for how the device communicates with the other computer hardware. In other terms, the firmware is the software installed in your amp. It is used to operate your amp and communicate with the Spark app.
So the latest firmware version for the Spark MINI is v1.7.2.10 and its release is dated 05/04/2020.
IMPORTANT NOTE: Firmware update tool for the Spark Mini is different than the Firmware update tool for Spark 40. DO NOT ATTEMPT TO UPDATE YOUR SPARK WITH INCORRECT FIRMWARE UPDATE TOOL.
Make sure to download the latest app update as well before using your Spark MINI.This firmware update includes support for the following features and bug fixes:
EQ Scenario – The equalizer settings of Spark MINI have been fine-tuned and optimized to provide the best playing and listening experience possible.
Headphone / Line Out Selector – Change the output settings of the Headphone / Line Output port located on the back of Spark MINI.
Power Settings – Set the power settings of Spark MINI to Auto Standby or Auto Shutdown mode.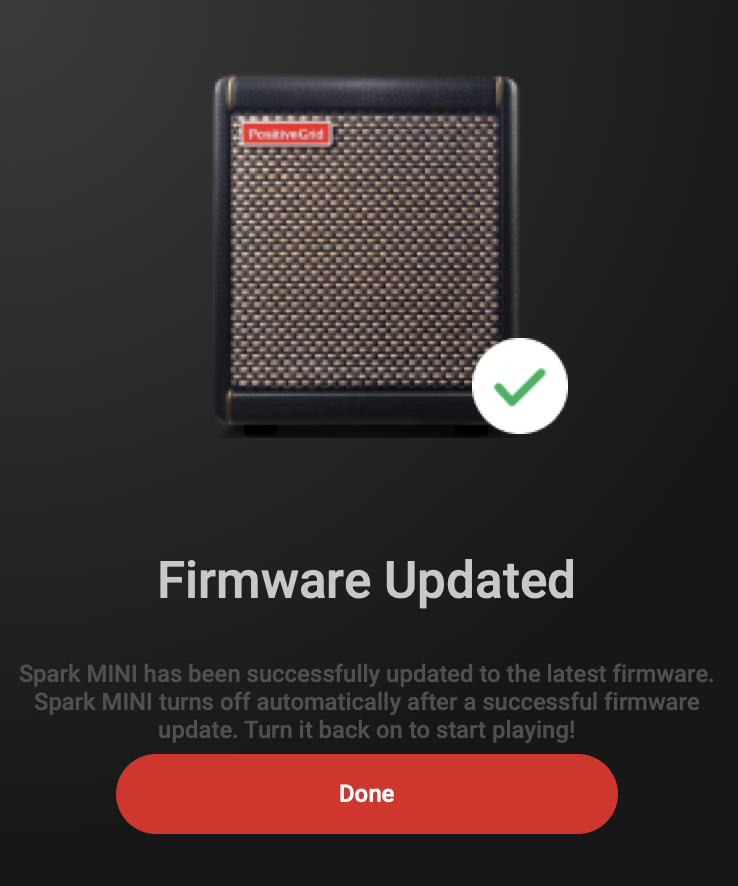 Firmware files and instructions are located here : https://sparkamplovers.com/kb/how-to-update-the-firmware-on-spark-mini/