Positive Grid J.H. Legendary Vibe pedal is available in the Experience Jimi Hendrix™ for Spark add-on and is inspired by the Roger Mayer Voodoo Vibe Junior.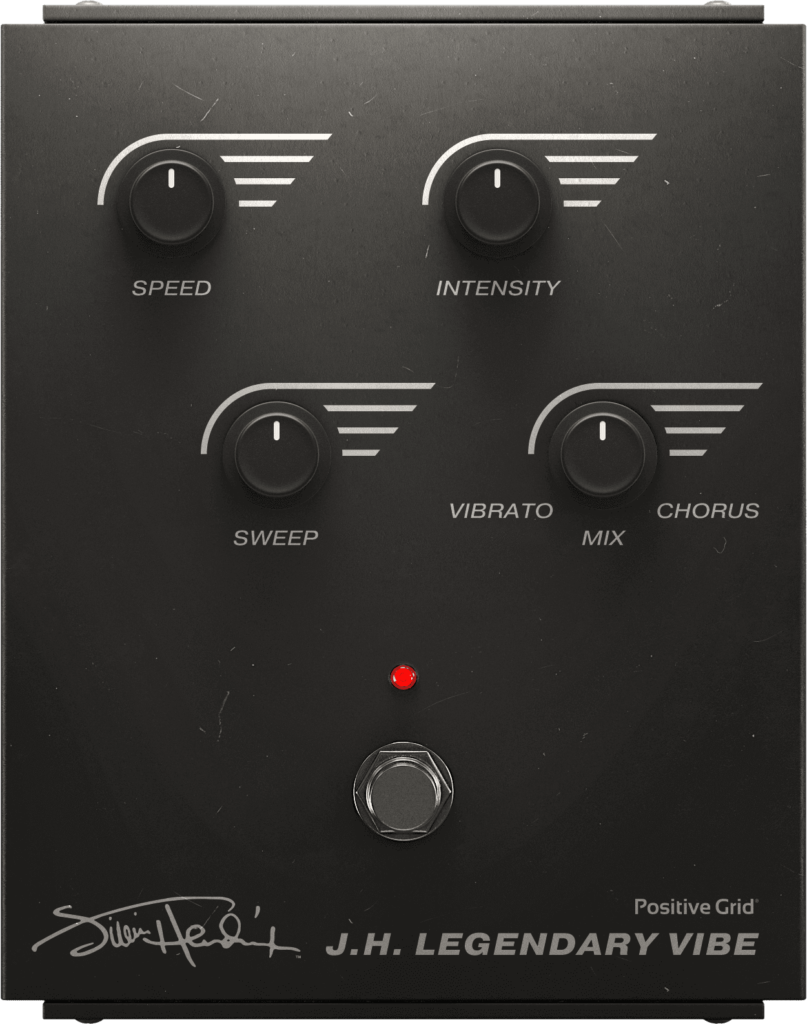 History:
The Voodoo-Vibe Jr is our latest evolution of the Univibe unit that was used by Jimi Hendrix and Robin Trower. The Voodoo-Vibe Jr will faithfully reproduce all the old sounds and incorporates the modifications I made for Jimi. The Supervibe was my 1st evolution of the Univibe and many leading performers including Stevie Ray Vaughan and Robin Trower used this unit. The Voodoo-Vibe is the 2nd evolution and also has a Tremolo circuit plus the usual Chorus and Vibrato functions. The control of the sound parameters is greatly expanded and is capable of producing many new unheard effects. The Voodoo-Vibe Jr is the 3rd evolution and is the smaller brother of our famous Voodoo-Vibe, which is used by so many great guitarists such as Page and Clapton and still today remains the standard by which all other Vibe type clones are judged. It has been designed in response to the many requests of having a smaller unit with less knobs that still gives the great tone of it's bigger and more complicated brother. The Vibe Jr. has the same circuitry and configuration but does not have the Tremolo function nor does it have the choice of sine or triangular waveforms in three ranges and the symmetry controls.

Technical:
The Voodoo-Vibe Jr is completely analogue in operation and exhibits a very transparent and full sound quality that is lacking in digital units that simulate chorus, flanging, phasing and vibrato effects. The digital zipper noise and graininess is eliminated and the guitar tone is maintained throughout the full dynamic range, Class A discrete circuitry is used in all audio stages and results in ultra high audio quality and very low noise. The signal to noise ratio of the unit is 102Db, which is about 12 Db better than a compact disc. Extensive power supply filtering is used to ensure low noise operation from mains AC adapters.
Source: https://www.roger-mayer.co.uk/vibe_jr.htm