Note: This article has been updated with lastest available information on May 26th, 2021 at 06:36 pm
UPDATE 05/25 2021: Airstep Spark Edition footswitch being rebranded as "SP Edition"
For a long time now, the only way to use a footswitch with the Positive Grid Spark amp was to turn to the DYI/Modders community and have some soldering skills. Well, there's a new kid in town called Airstep. It is a footswitch developped and produced by the guys from Xsonic Audio. They just announced "Spark Edition" of their 'Lite' Airstep model.
It is interesting to note that while the footswitch sports a "Spark" logo, the Airstep is not officially supported by Positive Grid.
"The Perfect Wireless Footswitch of Spark Amp"
While i haven't been able to test it by myself, it look like to the community is pretty excited with this new product.
Basically it allows you to change the channels and toggle the effect of the Spark, wirelessly. No setup is required. it is announced to be a plug and play product:
Wirelessly changing channel of Spark
Toggle DRIVE, MOD, DELAY and REVERB effect of Spark
LED indicates the effect's toggle state of the current channel
Three Control Modes, Plug and Play
Built-in rechargeable battery for 300 hours of continuous use
Firmware can be upgraded to keep up with the latest Spark's firmware
Silence footswitch design
Robust aluminum extruded shell
3 modes to control your Spark amp wirelessly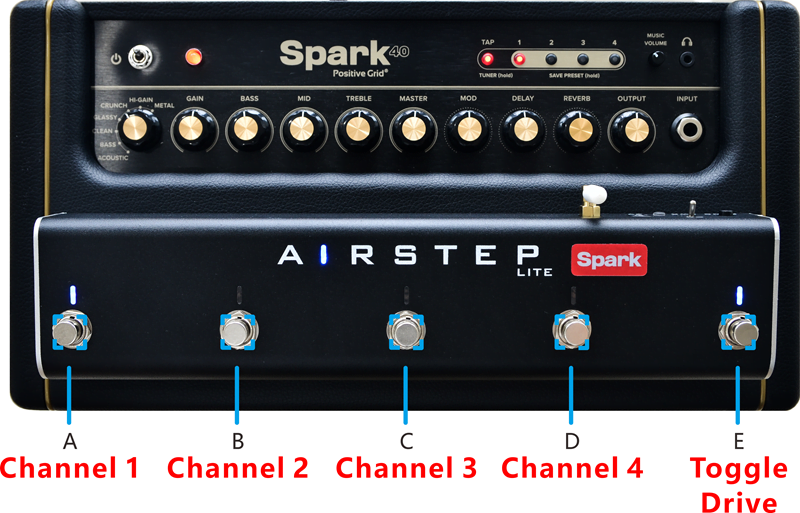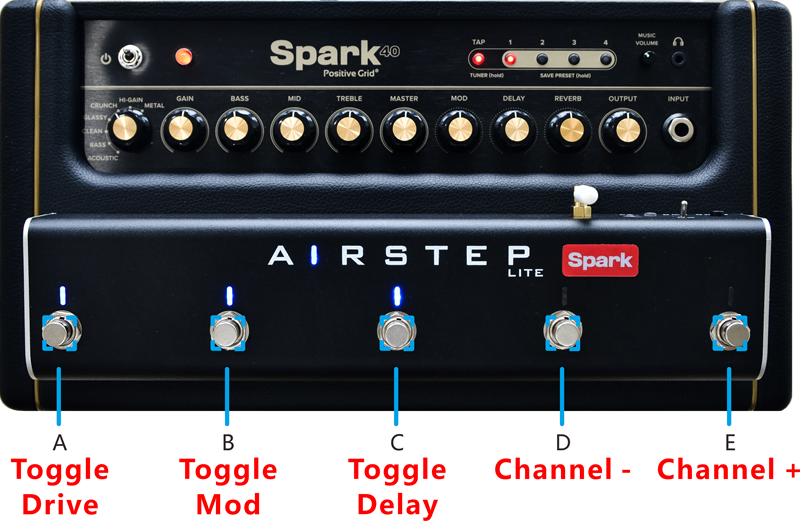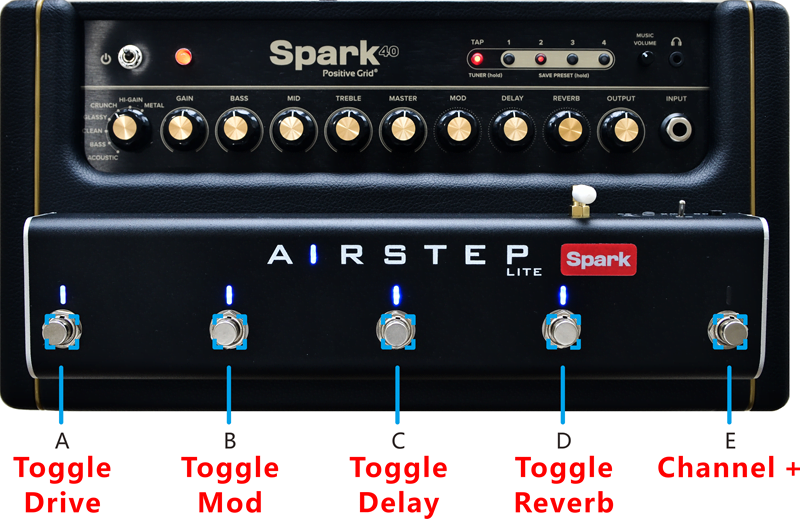 Be aware of the product limitation
While the Airstep Spark Edition is a really nice addition to you Spark, you have to be aware that once the Airstep is connected to your amp, you won't be able to edit your presets. The good news is that you'll still be able to stream the backing tracks from the Spark App.
Unfortunately, this restriction comes from the Amp own limitations. Only 2 bluetooth connections are allowed to connect to the amp: Spark 40 Audio and Spark 40 BLE.
The Spark 40 audio is used to stream large chunks of data to your amp (ie: audio streams, backing tracks) while the BLE (Bluetooth Low Energy) is used to transmit small volume of data and can go into sleeping mode when not used (to save battery on your mobile device). The BLE connection is used by the app to send your preset information. I assume the Airstep will also use this connection to connect to the amp. that is why you won't be able to change your tone in live, while the Airstep will be connected.
The price
The price announced is 129.99USD (might be a bit overpriced if you want my opinion) even if the product quality is here. There is currently a pre-sale discount price of 99.99 USD which is much more reasonnable option in my opinion so go and get your Xsonic Airstep "Spark Edition" footswitch before price goes up!